Video One Network - New York City #1 Times Square
  SONY Unveils JumboTron Screen in Times Square  
New York (AP)  The Bright Lights Of Times Square get a little brighter in November after the unveiling of what is being called the largest permanent outdoor color video screen in the United States.
The 23.5 by 32 ft screen attached to One Times Square, is the work of SONY Corp. company officials announced plans for the Jumbotron screen Wednesday.
the screen will replace the old Sony panels that have been in times square for 20 years. It will serve as a marketing and promotional tool for Sony-Owned CBS Records And Columbia Pictures the Sony Video 1 Network also will provide news, holiday messages, public service messages and other programming.
CBS records is excited to have this new large scale medium available to increase awareness of our roster of talented artists, said Bob Altshuler, Senior Vice President.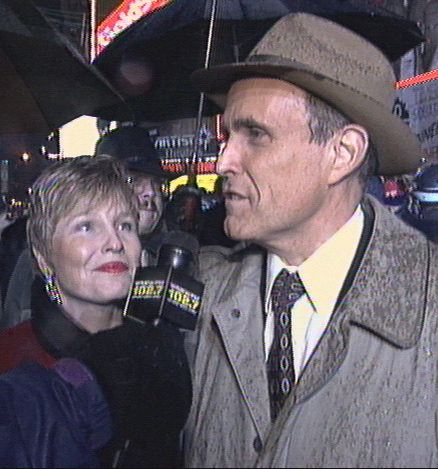 Sony Video One Network hosts 
"WNEW Rock N Roll New Years Eve Ball"

​​​​​​​
A 32 ft wide by 23 1/2 ft high Jumbotron video screen with unmatched location and visibility from 1990 to 1996 operated by SONY on the exterior of One Times Square, one of the most valuable advertising displays in the world. This dynamic signage offered brands premium, center-stage exposure with full motion video, live-streaming, and interactive capabilities. The Video One screen cost Sony $5 million to set up, resembled dozens of Jumbotrons in stadiums and arenas nationwide. Erected first as a corporate image vehicle for Sony.
Alongside its use for advertising and news, it was also frequently used by the producers of the late-night talk show Late Show with David Letterman, who could display a live feed from its studio on the screen as well.  This LED display was the perfect branding opportunity commanding the attention of millions of tourists year-round as they set their sights and cameras towards one of the most highly photographed icons in all of Times Square.   
Every year the giant  VideoOne Jumbotron screen located just below the New Year's Eve Ball was the home of the "WNEW Rock N Roll New Years Eve Ball" with  WNEW-FM radio personality and disc jockeys Carol Miller, Ian O'Malley and Tony Pigg. with special guest appearances by mayor Rudy Giuliani and Letterman show band leader Paul Shaffer. The audio portion of the show was simulcast on WNEW & watched by one million people that packed Times Square on December 31st,  as well as one billion people worldwide who watched the televised broadcast.